Up to this point I haven't told you who I am and what drives someone to try to take on this significant challenge.  It's time to fix that.  My name is Darin Graham and I own a Piper Cherokee 140 registered as CF-GJB.  With that information you can Google the heck out of who I am and what I do if you really want to.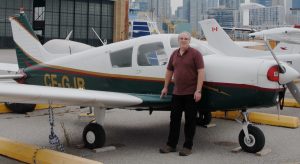 But, in the previous post, "The Joy of Flying", you got a little taste of my flying background and experiences.  Here is a brief recap:
Learned to fly in 2000
Bought a plane or two, sold a plane or two, and bought back my first plane
Continued training to get my Commercial Pilot License (although I don't fly for a living) and my IFR rating (flying in clouds)
Done lots of flights in Canada and New Zealand (see www.BlueSideUp.aero)
Have about 800 hours flying a plane
Helping with COPA – the Canadian Owners and Pilots Association
I have a PhD in Aerospace Engineering (after having spent way too many years at university)
In my years of flying, I've visited over 100 airports in Canada.  But what makes someone want to start over from zero and try to land at 150 airports, large and small, in just one year?  It sounds a little crazy, right?  The answer is both complicated and easy – and a little insight into who I am.
First, it's in my nature to take on interesting challenges and moving things forward.  And, I like to engage others to be part of creating something new.  That's why I hope to have lots of fellow pilots join me along the way.
Second, Canada is a fantastic place to live.  Being part of celebrating its 150th Birthday is definitely worth doing.  And by sharing the adventures through my website and Twitter, other Canadian's will hopefully have the chance to see Canada, and lots of small airports, from a whole new perspective.
But most important, it's about helping others.  It's a very Canadian thing.  I've spent many years being a leader in Scouting and helping kids learn and training adults to help others.  I've supported COPA in many ways, helped at "fly-ins", given many kids their first flight in an airplane, and when I can, I've been active in the airports where I've had kept my plane.  Even the most enjoyable parts of my career have been leading not-for-profit companies in the technology arena that support developing ideas and helping people with those ideas to build something that has both social and economic impact.
"Helping others" is why I've decided to use this trip to promote two important aviation charities – "Hope Air" and "COPA's Freedom to Fly Fund".  You can find more information about them by clicking on "Donate" in the menu on the left side of this website.  I hope you visit their websites and see the great work they do to support Canadians.  And, it would be wonderful as part of celebrating Canada's 150th that you make a donation to them.
For me, it's not about me.  Sure, it will be a great year hopefully seeing and experiencing some great things.  But what really matters is sharing that with others, celebrating Canada with Canadians, and supporting some aviation charities that do some great things.
So, buckle up and enjoy the flight!