It's January 1st marking the start of 2017 and Canada's 150th Birthday.  And, it's the day the Fly Canada 150 adventure begins.  The goal is to land my aircraft at 150 different airports.  Today I got two completed.
It was a nice sunny day out today and the temperature was hovering around 0C, but the winds were planned to be a little more bumpy than I hoped.  They were 15 knots gusting to 25 knots, but were right down the runway so that made things better.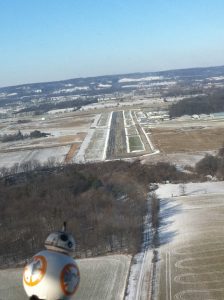 It was a beautiful day to see the lightly snow covered city and then the white dusting on the farm fields.  From the conversations on the radio lots of pilots were up flying on the first day of 2017.  It was also a quick flight even though we had a 25 knot headwind on the way to Burlington ON and we arrived at our destination in about 25 minutes.
The airport wasn't to busy, but there was a nice 10-12 knot crosswind about 60 degrees off the runway (video). In the picture you can see the runway as we made our approach.  You can also see a little BB8 in the corner of the picture. He will be my 'co-pilot' for the adventure and maybe you'll get to see him pop-up in pictures along the way.
CZBA, Burlington Airport, became the first airport of the 150 airport journey.  A certificate was presented to Lidia of the Spectrum Airways flight school showing they were the first.  They also stamped and signed the first entry in my Fly Canada 150 logbook.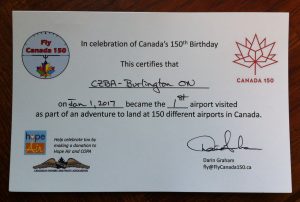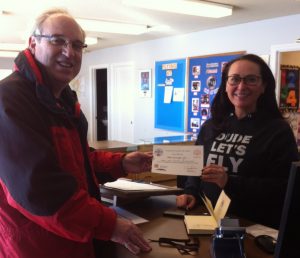 After a quick refueling of CF-GJB (since Burlington has inexpensive fuel) and a bathroom break, we were off back home.  Since it's Jan 1 there weren't too many flight schools open so we decided that it would be a simple day for the first outing. We landed back in about 20 minutes thanks to the tailwind now helping push us along (video).
CYTZ, Toronto Island Billy Bishop Airport, became the second airport.  Toronto Island Air Flight School was open, and they were presented with a certificate too.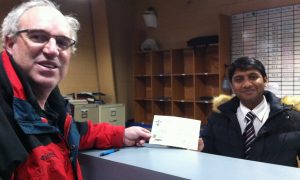 It was a good day … any day you get to fly in nice weather is a 'good day'.  And a great day to start a new adventure for the year.  I look forward to seeing lots of people, places and airports on the journey.