Finally a day to enjoy a little flying.  According to the weather gurus, January had a total of less than 20 hours of sunshine.  And, if I remember correctly those were really windy days.  It's been a mish-mash of snow, rain, wind and low cloud for the last two months.  I'm sure I could have squeezed in a couple of short flights, but it wouldn't be much fun other than burning fuel.
Today is the "Family Day" holiday in Ontario – Feb 20th.  There isn't a cloud or precipitation in sight.  And the clear skies are accompanied by winds of less than 15km per hour, and not the usual more than 30km per hour.  In short, it's a perfect day to escape and add a couple of airports to 150 "visited" list.
I have a few day trips with 3 or 4 airports already planned, so I chose one that was almost a straight line west from Toronto Island.  It starts by flying over Burlington (which was airport #1) and Brantford to land at Tillsonburg (CYTB).  Then a short hop to St. Thomas (CYQS) less than 50km away.  The return flight goes back to Brantford (CYFD) where I can get some fuel before returning to Toronto.  The round trip is about 200sm and 2 hours of time in the air.  And with the temperature planned for about 10C its going to be just like a Spring day.  Checking online for NAVCANADA weather and NOTAMs, it's going to be an uneventful day, so I can just take my time and enjoy the flight.
Well, the best laid plans of a peaceful flight changed quickly.  It looks like a lot of other pilots had the same idea of getting out and doing some flying.  At take-off from Toronto Island, I had to wait at the runway hold line behind two Porter Q400 and two Cessnas ahead of me, with two other light aircraft behind me.  We must have looked like a line of geese with mom and dad up front and five little ducklings trailing behind. As usual, the CYTZ controllers did a fantastic job of getting us off in an orderly and efficient fashion squeezing us in with landing Porter and other visiting aircraft.
And the crowded airspace continued even once I got handed off to Toronto Terminal.  They were extremely busy keeping everyone organized west of Pearson Airport.  But, they got me up to my requested 4,500' westbound promptly.  They pointed out lots of aircraft along the way, but it was still good to keep my eyes scanning the horizon for other aircraft.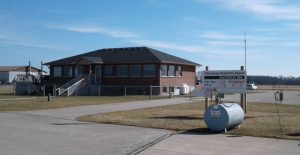 Before I knew it I had spotted Tillsonburg and on my decent for joining the circuit.  With only a couple of aircraft in the circuit it wasn't too bad getting on the ground.  The young pilot behind the Unicom airport desk greeted me with enthusiasm and wished he could come along for some of the FlyCanada150 journey.
Tillsonburg is one of those quaint airports that are easily laid out and to move around on.  The one challenge is that the taxiway is mid-way down the single runway, so you often have to wait to backtrack before taking off.  Well, wouldn't you know that just before I wanted to taxi for take-off the were four arrivals.  Some of the pilots were shaking off the rust of having not flown since the fall, so everyone was giving lots of room between each other – which isn't a bad thing from a safety point-of-view.  After patiently waiting for about 10min for everyone to land, I got my turn to backtrack on the runway and take-off without further ado.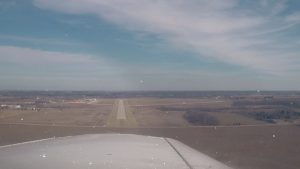 St. Thomas was only a quick flight westward.  It's the classic triangle runway layout from the 1940's British Commonwealth Air Training Plan (BCATP) for Canadian airports build at that time.  If you don't know about this rich and important history in Canada and the role of BCATP on WWII, you should do an internet search.  This airport layout makes it easy to land for novice airforce pilots without much crosswind as you've got lots of runways to choose from.  St. Thomas one of my favourite airports and I had been there in November to visit my uncles and take them for a local flight around Port Stanley.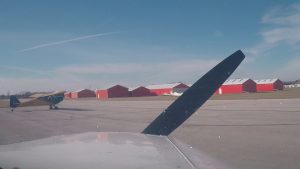 It wasn't too busy, and I was on the ground only 15 minutes after taking off from Tillsonburg (video).  I did get a nice surprise on my arrival as I got to see CF-DQY taxi out for take-off.  It is a 1946 Fleet Canuck that had been totally restored to the original Yellow and Blue colours.  Having owned DQM myself, and manage the FleetCanuck.Club website, I have a special place in my heart for Fleet Canucks – especially since this year is the 70th anniversary for many of these aircraft.
St. Thomas became airport #4 on the journey, and the local flight school was pleased to get a FlyCanada150 certificate to hang on the wall.
St. Thomas continued to be quiet and take-off was without delay.  The wind was coming from the east, so it was a straight climb out towards Brantford on my return trip.  As I flew over Tillsonburg on the way I listened on the radio, and it was as busy as when I was there for my first stop on this day's journey.
I easily sighted Brantford airport on the ground as it too is a BCATP airport, so the standard triangle is simple to spot.  There were a couple of training airplanes in the circuit, but not much to worry about when coming in to land.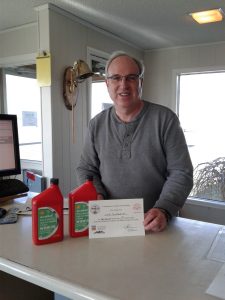 I got a very warm welcome by the Brantford Flight Centre staff.  They were excited about the FlyCanada150 adventure and were going to make sure everyone knew about it.  I presented them with a certificate indicating they were my 5th airport.  And one of the staff told me this was very fitting given that Brantford was #5 of the BCATP Service Flying Training Schools.  They also presented me with two litres of engine oil to help support me along my journey.  It's that type of unexpected support that shows how flying is a close family no matter where you are from.
The little café at Brantford makes a nice breakfast, but being a holiday it was closed.  I'll have to revisit sometime on my other journeys and make sure I get some nice bacon and eggs.  Even though I didn't get a chance to fill up with "fuel" at the café, I did get the airplane filled before continuing home.
And as fate would have it, the airport got a little busy before I left.  They had one runway as the active, but an alternate runway was being used by a trainer from the flight school for cross wind landing practice.  I had to get the timing just right to taxi along the third runway as the taxiways inside the triangle were closed.  Finally I reached the active runway and the airspace had cleared out, so with another straight out departure I was heading back to Toronto Island (video).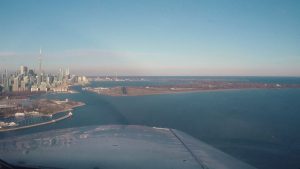 Coming back in to Toronto Island was busier than when I had left.  They were handling 6 aircraft plus a training flight that thought it was too busy and so returned back to Waterloo before they tried to join the circuit.  Then one of the aircraft thought they saw a wayward drone that added to the complexity.  Tower did a great job, as usual, of informing everyone and keeping things well organized.  I must have timed my arrival just right as they gave me a straight in on Runway 08.
All in all it was a wonderful day of flying, even with all the aircraft buzzing around the airports.  That made it a good day to remind me that a pilot must always be aware of what's around them, even when the sky is clear of cloud.  And, I got to add 3 more airports to my goal.  That makes 5…with 145 left to go!