The first weekend in March was a busy weekend of flying as a nice arctic high pressure system was arriving over southern Ontario.  This type of weather during winter usually brings cold, clear skies that are perfect for flying as the air tends to be calmer and the plane performs better in the colder, denser air.  With that opportunity I planned to spend the weekend doing some flying to Ottawa and adding some more airports.
Doing a final check of the weather on Saturday, everything looked clear although the winds were going to be higher than usual, but Sunday was planned to be calmer.  The winds were going to be a little bit of a challenge as it meant there were going to be strong crosswinds for most of the airports I was going to visit.  When I got out to my plane at Toronto Island, the weather prognosticators were absolutely right…it was very cold and very windy.  But nothing I couldn't handle, and I could always turn around or stay over at one of the airports along the way.
With the walk around, the run-up, and clearance from Toronto Island tower, I was shortly on my way eastbound.  By the time I got up to 3,500' about 10 minutes later, I was already getting bounced around pretty good by the wind chop.  It was an hour flight to my first airport, so I planned to see how it went and decide how to carry-on once there.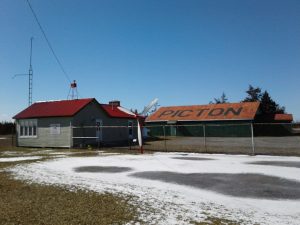 Just as planned, I arrived at Picton (CNT7) an hour later.  It was one of the British Commonwealth Air Training Plan airports built for WWII, so it is laid-out with 3 runways in a triangle.  This means that the pilot has lots of choices depending on the winds and helps keep the crosswinds on landing to a minimum.  Picton is a privately-owned airport (I had gotten permission from the nice owners the day before), and although it isn't used often (and very little during winter) I was pleasantly surprised at how clean the runways were from winter debris.
I landed on Runway 35, nearly straight into the wind (video).  After taxiing over to the Prince Edward County Flying Club, I met a pilot who was also out for the day.  He had heard about my adventure and was pleased to let me use the clubhouse to get warm and have a washroom break.  With that, Picton became airport #6 on my journey.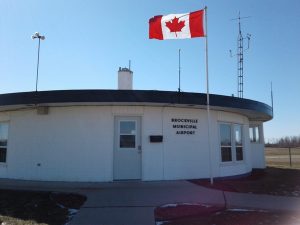 After a short visit, I was off again eastbound towards Brockville.  The winds hadn't eased up any and I was still getting bounced around.  At the Brockville airport (CNL3) the winds were a strong 15 knots perpendicular to the runway.  It took a little dancing on the yoke and the rudder pedals, but the landing was pretty good if I do say so myself (video).  When I got inside the airport building, the guy managing the airport and radio for the day was very surprised to see someone out in these strong winds.  We had a good chat about all sorts of aviation topics as I warmed up inside.  Before I left I gave him certificate #7.
Taking off was a little easier, but up at altitude of 3,500' eastbound I was again into the bumps.  By now I was getting used to them, but it was getting colder too.  I checked the outside air temperature and it read -35C…now that's really cold in a little airplane!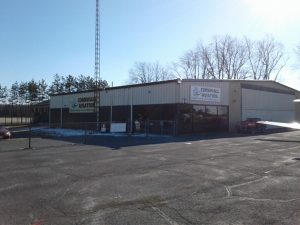 This leg of the flight was to Cornwall (CYCC), which is only about 30 minutes away.  And, no surprise the winds were once again perpendicular to the runway and gusting.  After a reasonably good crosswind landing, I taxied over to the gas pumps and filled up the airplane.  By the time I had finished with fueling up, I was super cold with the wind chill adding to the already bitter artic air.  I went inside to the flight school and all the students were talking about how bumpy it was.  In fact, only the twin aircraft training flights were going up because it was so windy.  The lady at the Cornwall Aviation flight school was really nice and let me warm up by the fireplace.  I presented her the certificate showing Cornwall as airport #8.
It was getting late in the afternoon and I had two more stops planned along the way to Ottawa.  These airports, Lachute and Gatineau, were both in Quebec.  It would be a slight detour north to Lachute, and then a flight slightly southwest back towards Gatineau and finally Ottawa.  But, it had been a long day of lots of bumps and colder than I had hoped.  So, I decided to leave these two airports for a future trip and planned to head directly to my final destination, Ottawa.  So after some quick planning I was taking-off from Cornwall and northwest to Ottawa (video).
The flight to Ottawa airport (CYOW) was the smoothest flight of the day.  It was going to be a short 30-minute flight, so I decided to stay a little lower at 2,500' to keep out of the winds that were a little higher.  That doesn't mean there wasn't any turbulence, but it was nice to not get bounced around so much.  As usual, the control tower did a great job of inserting me in between the Porter and Air Canada flights and I was able to land on Runway 32, straight into the wind.  Finally, a landing without gusting crosswinds! (video)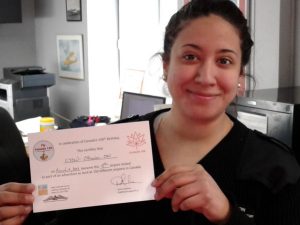 A long taxi to the flight schools on the north side of the airport, and I was at Ottawa Aviation Services (OAS) for shutting down and parking for the night.  OAS was like being back in time as this is where I did my private pilot, commercial pilot and IFR training.  And, it is where I had parked my plane 15 years ago when I first bought it.  I presented OAS with their certificate of being airport #9 on my journey.
I spent the night at my sister's place and it was great to catch-up with her, her husband and my nephews.  And, eating a well-deserved hamburger and sweet-potato fries at "The Works" for dinner was a nice way to end the day.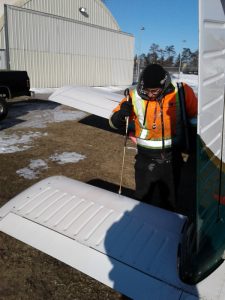 Sunday morning was very cold, as it was -23C overnight, but the sun and the clear skies were nice to have and the winds were much calmer too.  Unfortunately, there was a nice frost layer on the wings, so one of the "ramp-dudes" at OAS was kind enough to do some de-icing with a hand pump.  With the frost taken care of and a walk-around of the airplane done, it was time to do short hops to some airports not too far way.
I took off from Runway 22 at the north field at Ottawa, reminding me my time as a newbie pilot on my first training flight taking off from the same runway,.  The control tower routed me directly to my next stop, and within 7 minutes I was overhead of Rockcliffe airport (CYRO).
This is a special airport as it is one of the oldest in Canada and is the sight of the National Canadian Aviation and Space Museum.  There was very little traffic in the area, so I joined the circuit over the Ottawa River and was on the ground two minutes later.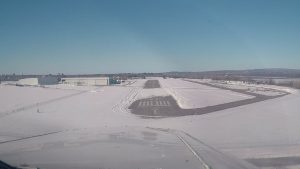 The runway had some snow across it because of event the past week that closed the airport (video).  They had let Michelin use the runway to test snow tires. But, the snow didn't present too many problems.  The people at the Rockcliffe Flight Club desk gave me a warm welcome…one of them had even heard about my FlyCanada150 journey.  CYRO got certificate #10.
A quick turn around and I was off to Gatineau airport (CYND).  I barely got 1,500' in the air and airport was already in sight.  Gatineau has a nice long runway, and Runway 27 was straight into the wind, so the landing was very smooth (video).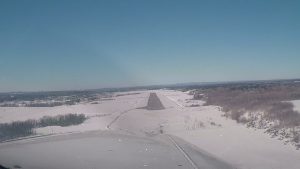 On touchdown Gatineau became airport #11.  Since it is located across the river from Ottawa it is in Quebec and became the first airport I visited in that province and the first one outside of Ontario.  I wandered over to the Vintage Wings museum that houses many flying WWII aircraft including a Spitfire and a Hurricane.  Unfortunately, they weren't open on Sunday, but I recommend if you are in the area during the week that you visit it as it's an amazing place.
My next airport on the list was Arnprior (CNP3).  It is straight west from Gatineau and only a 25-minute flight away.  As predicted the winds were much calmer today and it was a very enjoyable flight.  I had lived in the area 10-years ago and it was nice to see the snow covered fields and woods, and follow along the frozen river.
Once again the winds were right down the runway for the third time today…a pleasant change from  the crosswinds yesterday (video).  After a smooth landing and taxi to the "Arnprior Terminal", Arnprior became airport #12.  I got a wonderful welcome from the staff, especially Tina who accepted the certificate.  I also met a pilot friend there, Rich, who now owns the Fleet Canuck that I once owned a few years back.
I did notice that one of my landing strut oleo's was a bit low.  Rich gave a quick call to the Arnprior mechanic, John, and luckily he was at the airport on Sunday.  John Chapman had done some work on my aircraft many years back and it was good to see him again.  He gave the oleo a quick look and said one of the seals had likely given out because of wear and the extreme cold.  He said he would work on it after he had gone up on a local photo shoot flight with a customer in his plane.  While John was flying, Rich and I went out for a late lunch at the Atrim Truck Stop…and the food was as fantastic as it's reputation.
John spent a couple hours and the oleo was back together without any major problems.  I was very lucky that he was there and he did his usual expert job at repairing my aircraft. By now it was late afternoon, and unfortunately it was too late for me to do my planned landings at Carp, Smith Falls and Kingston – so I had to settle for a flight straight back to Toronto.  But before leaving I filled up with gas at Arnprior (thanks for the little discount from them to support my FlyCanada150  journey!) and I checked with NAVCANADA.  It was still going to be nice weather for the rest of the day.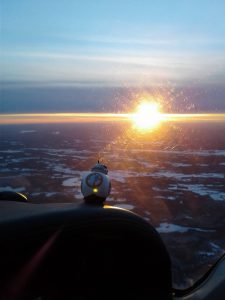 In fact, the two-hour flight back was really smooth (a nice change!).  I even got to see the sunset…which is always a wonderful sight from the aircraft.  By the time I got to Toronto the sun had set and the city lights were out in full glory.  I flew right by the CN Tower and right over the downtown…Toronto is a beautiful city at night from the air.
Before long I was on final for Runway 08.  This time the wind had picked up and it was gusting 19 knots about 30 degrees of the runway.  I guess I couldn't have a perfect day of only winds down the runway.  It was my first night landing in a while, but I did just fine (video).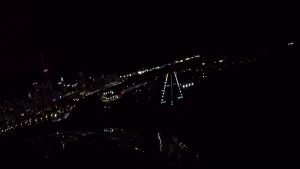 Before I knew it the weekend of flying was over and I had visited 7 new airports.  Although I didn't get to all the airports I wanted to on this trip, it was still a great experience.  It also means that I'll just have to head up to Ottawa on another weekend.  For pilots, any weekend that includes flying is a great weekend!