It's March 17th….Happy St. Patrick's Day!
And the weatherman got it wrong…again.  Last night they said today was planned to be overcast with a snow and rain mix.  When I got up this morning, it was bright and sunny with almost no wind.  I turn to the weather network and they claim that since last night the system had stalled out and the wasn't coming for another 24 hours.  So, that means today is a great day to go flying…so that's what I did.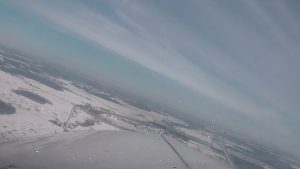 I thought I would head south-east and fly over the Niagara Peninsula.  They had received almost a foot of snow over the last few days and I figured it should be pretty scenery from the air.  And it didn't disappoint.
The first stop along the way was going to be St. Catharine's airport (CYSN).  It's a nice trip from Toronto Island, south and then east around the bottom of Lake Ontario, with the Burlington Skyway Bridge and Hamilton Harbour along the way.
It was a smooth and sunny day…a big difference from my last trip a few weeks ago to Ottawa.  It didn't take too long, and I could see CYSN in the snow-covered fields.  They had done a great job of plowing the snow and the runway was bare and dry (video).  There was some flight school traffic in the area, but everyone was orderly in the circuit and on the ground.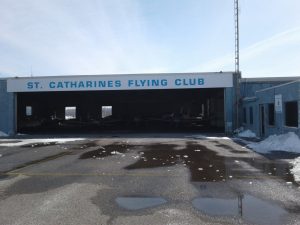 After parking the plane I went to the St. Catharine's Flying Club to present certificate #13 – a lucky number for the green of the Irish.  Many of pilot author Garth Wallace's comical flying books are about his time as an instructor at this flight school.
My next stop was planned to be Welland/Niagara Central.  I had phoned them in the morning as the CFS had indicated that the runways are not always maintained during the winter.  Chris at the flight school (also run by St. Catharine flight school) answered the phone and said Runway 23 centre's for about 45' was plowed and bare and dry.  Otherwise, there was some drifting and snowbanks on the edges.  But, if you kept straight on landing you'd be fine, and the snowbanks wouldn't be a problem as they weren't high enough even for my low wing Cherokee.
Coincidently Chris had gone out flying on a Niagara scenic flight and was just preparing a plane at St. Catharine's when I was there.  I got an update from him and the Welland runway should be just fine.  And, I could always do a low and over and not land if it was a problem.
The Allied Aviation FBO guy filled up GJB with fuel from a small fuel truck.  He were very efficient as it was all done by the time I was finished with my short break at the St. Catharine's flight school.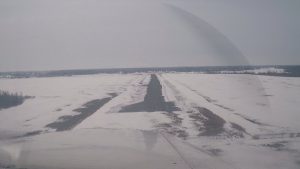 It's a straight-out take-off from Runway 24 almost directly towards Welland.  Ten short minutes later I could see the airport.  The approach is a little different as you aren't supposed to fly over the airport before joining mid-downwind due to parachutists at the airport.  And, going straight in to Runway 23 on the approach isn't generally recommended either.  Even thought it was unlikely there would be parachutists jumping today, it's always good to be safe.  Chris recommended flying to the west of the airport, doing a big U-turn left and join downwind going northwards.  It makes for a nice S-bend in the approach (video).
I could see from downwind that the runway at Welland/Niagara Central looked fine.  On final it became clearer that there was a ragged edge where the snowplow had been, but there was plenty of width of bare and dry runway right down the middle (video).  With almost no crosswind, it was a nice touchdown…and CNQ3 became airport #14 on the journey.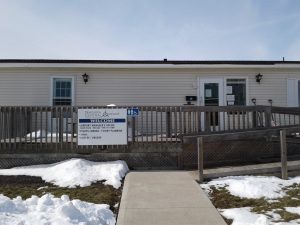 It was also my first time ever at this airport as in all my years I hadn't been there before.  And that's a shame because there is a nice little trailer that has been set up for airport offices.  There is also a wonderful lounge with a small kitchen for use by visiting pilots.  You can get some chocolate bars and goodies, and even a "COPA special" of a coffee and a muffin for $1.  It's a good place to check the weather on the computer, take a bathroom break, and just relax for a few minutes.
Right across the apron is the local satellite of the St. Catharine's flying club, and Jamie was pleased to take certificate #14.
So far it was a very good afternoon and it was time to head back home westbound.  After take-off there is a huge wind-farm.  Climbing out I was well clear of them, but the spinning wind-vanes are a little ominous all spread out over the landscape.  I had climbed up to 2,500', and even at that altitude I got a little bump as I passed over each spinning windmill about 1000' below me.
I called Hamilton tower a few minutes later and they gave me clearance directly to base for Runway 24.  I could see the huge 10,000' strip of tarmac for Runway 30 miles and miles away, so it was easy to stay just north of that for my way in.  It wasn't too busy there, with only a Beech 18 many miles behind me, so it was a nice casual approach and landing (video).
Surprisingly enough I had never landed at Hamilton (CYHM) airport before either.  Another first for me, and airport #15 on my FlyCanada150.ca adventure.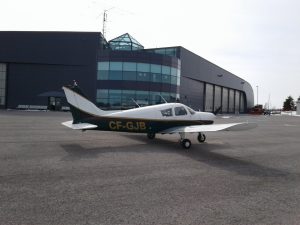 I had planned to park at the Canadian Warplane Heritage Museum (CWHM) while visiting the airport.  It was a nice taxi over and lots of places to park.  As soon as I walked in the door I was pleasantly greeted by a tour guide.  The place was busy with families on Spring Break…CWHM is a great place to take kids for something exciting and different to do!  The tour guide took me through the front desk, wandering through the museum.  Along the way we went by the famous Lancaster (only 1 of 2 flying in the world), a Canso, and lots of other cool aircraft.
At the front desk they called up to the administration offices and a few minutes later David Rohrer, CWHM's President & Chief Executive Officer, came down to greet me.  It had been a while since we had talked, and we spent some time catching-up.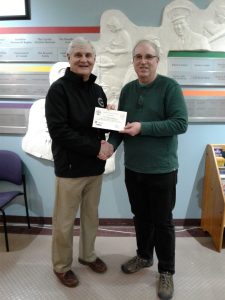 I presented him with certificate #15 and he gave me a CWHM hat to wear on my adventures during the year.  The entire staff were very pleasant, and I can recommend anyone going for a visit and seeing lots of wonderful historical aircraft.
Before too long I was back outside and in GJB preparing for my flight home.  It's an easy trip from Hamilton along the shoreline.  And, with flight following from Hamilton Tower, Toronto Terminal, and into the island with City Centre Tower, NavCanada kept me well informed of the traffic along the way.
A short 5 hours of fantastic flying on a sunny and smooth day, I was back with the airplane in its parking spot…and 3 more airports done!  Now, since it's St. Patrick's Day, it's time for some green beer!