When pilots talk about "General Aviation" they are usually referring to private pilots taking friends up flying and touring around while enjoying the "freedom to fly", but also private pilots taking people to medical care centres as they support Hope Air, flight schools teaching the next generation of commercial pilots by starting in small planes, and small commercial operations like those that take people to remote areas in float planes for fishing trips and honeymooner's for tours over Niagara Falls.  Large companies like Air Canada, WestJet and Porter fall under "Commercial Aviation".  You might be surprised to know that General Aviation accounts for over 95% of the planes owned in Canada.  And because of NavCanada, planes big and small stay well coordinated in the air – especially in busy airports like Toronto, Montreal and Vancouver as well as medium sized airports like Toronto Island, Kitchener-Waterloo and Gatineau.
Today is a Thursday, and since it was sunny and clear, I decided to go flying for the afternoon and add a few more airports to my 150 list.  Given that it was a weekday, I thought it might be an easy-going day with few planes in the air – and, I couldn't have been more wrong!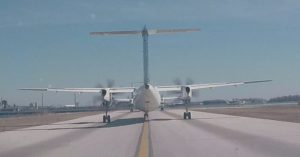 My home airport is Toronto Island, which is a busy airport most of the time.  But, today for some reason it was extra busy.  While I was getting GJB (my plane's registration) prepared I could see three small planes in the run-up area getting ready for taxiing to the runway.  There were also ground crews getting three more Porter flights ready to go.  When it came my turn to line up for taking-off there was a Cessna and two Porter Q400's in front of me, and a military helicopter, three small planes in the circuit, and commercial Air Canada and Porter flights all on their way in for landing.
The NavCanada air traffic control (ATC) gentleman on the "Tower" frequency was coordinating everyone like a square-dance caller.  He was spacing the in-coming aircraft nicely by adjusting their speed and the circuit size to get an aircraft taken-off between those landing.  It was a much longer wait for me to get my turn in line – about 15 minutes – but it was amazing to watch all the dancers focused on the same spot at the end of the runway whether they where taking-off or landing.  When my call sign Golf-Juliet-Bravo (for GJB) was called telling me that I could roll into position for take-off I saw another four small planes waiting up behind me for their turn.  I knew right then that it was going to be a busy day, and that General Aviation was alive and well!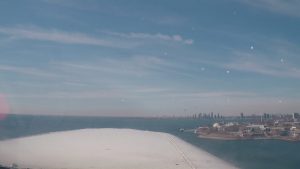 It was time to focus on taking-off and keeping the dance going for the Tower.  All went well and it was wonderful to flight right by Ontario Place as I climbed out.  Tower turned me over to Toronto Terminal, with their job to keep me on a path to Brampton through the complex airspace around Toronto Pearson Airport.  If you imagine a big round cake centred on Pearson that radiated outwards and upwards, the bottom of the circle would touch the CN Tower and the top left would touch Brampton Airport.  In fact, there would be a little a little cut-out for Brampton like a bite out of the cake.  Terminal gave me directions, like "go 270 degrees", next "300" and then "360", as they moved me efficiently around the outside of the protected cake so the commercial aircraft at Pearson could come and go unencumbered (video).
It was supposed to be a smooth day, but there seemed to be a bumpy layer around 2000' to 2500' due to some wind-shear.  Unfortunately, that was going to be my approximate altitude for the day as I hopped on short flights between airports.  Terminal gave me exactly 2000' for my arc to Brampton, so I got bumped around pretty good.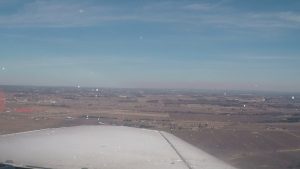 About half-way through the flight, I saw the rows of orange roofed hangars at Brampton, and Terminal turned me over to the local Brampton frequency.  When I tuned in the radio, it jumped alive with pilots calling their approach, positions in the circuit, and moving to take-off.  As I flew over the airport I could see five planes from the local flight school lined-up for their turn to take off, and see three in the air in front of me in the circuit as they were preparing to land.
There is no ATC at Brampton, and everyone stays coordinated by saying their position and intentions on the radio.  It's a different type of dance where the pilots practice patience and courtesy as we space ourselves out to let everyone have their turn and keep it safe.  Between landings, aircraft would taxi into position for take-off as the recently landed aircraft would taxi off the runway.  In this way, it was like a very efficient merge lane on the highway as everyone was moving along at speed.  It all ran very smoothly as I came in for my landing without issue (video), and I kept up my taxi speed to get off the runway to allow the next plane their turn at using the runway for take-off.
A quick taxi over to the Brampton Flight Centre and I parked the plane a short 25 minutes after having taken off from Toronto Island.
I walked into the Brampton Flight Centre and I was greeted by an amazing sight.  They primarily train new pilots for commercial flying, and the Centre certainly reflects that professionalism.  There was a flight desk with three staff assigning students their planes just like arrivals at a big airport checking-in passengers' luggage.  Students were seated in classrooms and in briefing rooms.  Everyone was in uniform – white pilot shirts and dark slacks.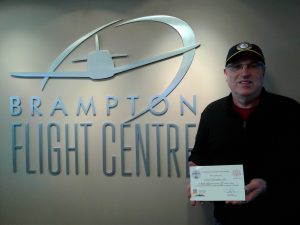 Asking at the flight desk, they found the person I was looking for.  Nanci came out from the administration offices and welcomed me to the Brampton Flight Centre.  I presented her with a certificate showing Brampton (CNC3) as airport #16 on the journey.  We talked a bit about their operations – which was well organized even as they currently dealt with issues of a plane that was going out of service, no solo practice flights due to winds (which I had just come through), freezing rain coming tomorrow, and phoning students to adjust the daily and weekly flight training schedule accordingly.  It was very impressive.
As I prepared to leave Brampton, the line of aircraft on the ground and on final was much shorter.  It ran smoothly, but as I climbed out I could hear on the radio more aircraft in the area coming in to land.  Just as I was preparing to leave the Brampton "zone" I heard one aircraft on a short final approach calling an overshoot (with a small hint of ire in his voice) as someone had taxied in front of him to take-off as he was trying to land.  This time the dance hadn't worked out quite right and someone on the ground had missed stepped their turn – with the overshoot as the safe and right thing to do in response.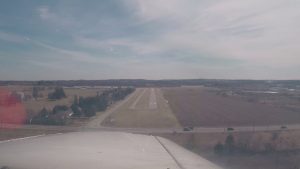 My next stop was Guelph, a short but bumpy 10-minute flight to the west at 2,500'.  This time there was no one on the radio.  Guelph (CNC4) was a small airport but I had expected some local training flights.  The approach to Runway 14 is quite interesting.  It is over busy Highway 7 at one end, and the runway and taxiway are parallel to a small laneway into the airport with some small houses along the way.  You have to make sure you've got the runway for landing and not the taxiway or laneway as you pass just 50' over cars and trucks on Highway 7.
After landing I walked into the airport building, and found out that the local flight school had closed a couple of years back – the reason for no training flights.  It had been replaced by a small restaurant serving all-day breakfasts.  That wonderful smell of bacon, eggs and toast stirred my stomach even though I had only eaten two hours ago.  There were only eight tables in this small diner, but more than half were filled by locals who had come in for the great food and watch any planes that did land.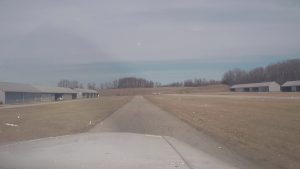 I wandered over to the hangars to see if anyone was around.  Even though no one was flying I was very impressed by the large number of hangars filled with aircraft.  I did eventually find a pilot who I had seen in the diner.  Bob was just getting an aircraft prepared for some circuits.  As it turned out Bob was part of the Tiger Boys – a local club dedicated to rebuilding antique aircraft.  Over the years they had rebuilt several planes including Tiger Moths, a Gypsy Moth, a Fleet Finch biplane – and have another 20 on the go.  Every May the Tiger Boys host an annual fly-in with over 50 antique aircraft coming in and lots of people driving to the airport to see them.  It was wonderful chatting with Bob, and I presented him with certificate #17 for the Guelph airport.  He promptly hung it up in the hanger for all the club to see.
Even though there was no longer a flight school at Guelph, general aviation was still alive and well with flying local piots, rebuilding of antique aircraft, an annual fly-in, and supported by a diner and the locals.  I will definitely have to return for breakfast sometime.
Next was Waterloo-Wellington Airport (Kitchener), just another 10 minutes away.  Right after take-off from Guelph (video) I tuned to the Waterloo Tower frequency, and was greeting with lots of chatter.  Waterloo ATC was giving rapid instructions to a whole bunch of aircraft.  In order to fly into the Waterloo airspace you have to talk with ATC, and if they don't talk to you have to stay out until they do.  Since this airspace is right beside Guelph it is important to call them right way.  They were so busy that they politely told me to do some holds outside the airspace and they would get back to me.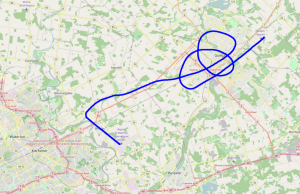 As I was flying circles over the city of Guelph (video), I heard they were doing the same with about three other aircraft, making them do holds about 8 miles west and north of the airport.  Of course I was at 2,500' and getting bumped around yet again.  After waiting patiently for my turn, ATC gave me clearance to enter the zone and lined me up in the air as they did the same with the others waiting.  As I approached my turn to enter the circuit I was number three in the landing pattern, and I could see in the distance at least five aircraft on the ground waiting their turn to take-off.
ATC was actively coordinating another dance at Waterloo.  As expected, it all went well and ATC did a good job of keeping things organized and the pilots did their job of following instructions and keeping things moving as in turn they entered and left the runway as they respectively waited for take-off and after landing.  Just about 100 metres from the end of the runway (about a football field length), I got clearance to land just as a small plane was taxiing off the runway after having just landed (video).  Not only was it a dance of timing, but the winds were constantly changing – swinging and gusting perpendicular to the runway – which made the landing very challenging.  But, all went well and as I taxied off, Waterloo-Wellington (CYKF) became airport #18.
After parking the plane, I went into the Waterloo-Wellington Flight Centre (WWFC) – a place I often visited in the past when I flew into see my parents in Kitchener.  As soon as I stepped in the door, I was greeted by a bee hive of about a dozen students buzzing around the flight desk getting their plane assignments. It was like a university classroom bunch-up as they turn in their assignments at the front of the room.  Which shouldn't be surprising as WWFC is working with the University of Waterloo for flight training.  It was very different from the order of Brampton Flight Centre, but for the students here they had their own system that worked well for them.  I could here in the buzz, the students and instructors talking about the bumps in the air and the wind changes on the ground.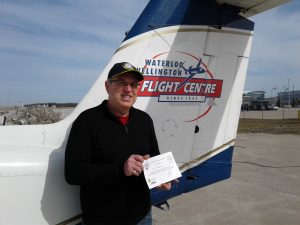 Caroline, the marketing coordinator for WWFC, came out to greet me.  We went outside for some pictures and I gave her the FlyCanada150.ca certificate for Waterloo.  We talked about their operations and the nice café that is right beside them – which gets very busy on weekends with people driving out from Kitchener/Waterloo and the local towns.
I had the plane filled up with fuel, also having a good chat with the gas guy as I prepared the plane for returning home.  Waterloo ATC was less busy as the planes from the flight school were out in the practice area north of the airport, but there was a couple of business jets preparing to take-off.  I didn't have to wait too long and I was on my way.  This time I was able to climb above the 2,500' into the smooth air.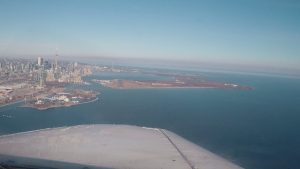 Shortly after getting transferred from Waterloo ATC to Toronto Terminal, they gave me a nearly straight flight to Toronto Island.  Once I intercepted the lakeshore just east of the Burlington Skyway bridge, I was lowered to 2000', which at this time was just below the windshear so it too was smooth.  Once onto Toronto Island ATC, they were busy with commercial flights and flight school circuits, but they fit me in with a straight-in landing for Runway 08 without any delays.  This was a nice change from the waiting on the ground and in the air – and a wonderful way to end the great day of flying.
What was supposed to just be a couple of hours of quick hops ended up being a fascinatingly busy and full afternoon of flying, meeting people and pilots, and visiting flight centres.  It was a wonderful reminder that General Aviation is definitely alive and well in Canada.